In a world of dietary supplements, even though we live in a time of all sorts of innovative and proven effective products, we can find stable products that even after many years of novelties, still stand strong and are significant in the field of sport supplementation. Amino-acids with a branched chain, which you may know under the BCAA abbreviation, are one of them. But not all BCAA's are the same.
If people have experience, a sporting history and are active sportspeople, know the needs of the human body and their primary goal is the satisfaction of the customer, stand behind the creation of dietary supplements, it is the basis for a quality product to enter the market, then it is not just a means of something from which to gain money from. The aforementioned maybe a useless fact for somebody, but for us it is one of the most important, the basis of our philosophy. If you buy shoes that last without several years of damage, there is a strong probability that you will buy the same brand of shoes again. Why is this so? It's about faith, because you believe that you won't be disappointed. The same approach can be used for anything.
You don't have to look for an exaggerated advert for BCAA AMINO POWDER 2:1:1, but for plain and simple facts. Simple compounds don't exist in bodybuilding. If you want large muscles, everything stands and falls due to basic things. It's the same with BCAA; why look for new ways, when there's already an established one and it's functional.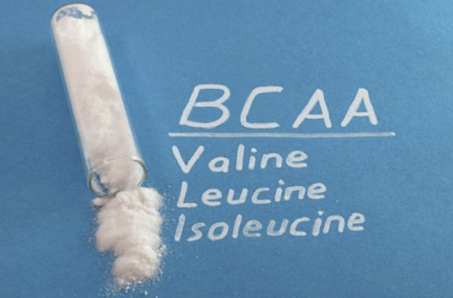 What are BCAA and why are they so important?
BCAA (Branched-Chain Amino Acids) are these three amino-acids:
Valine,
Leucine,
Isoleucine.
They are also named proteinogenic BCAA and belong to nine essential amino-acids. The above mentioned amino-acids are from our point of view the most important, which we should take into consideration. They are suitable for the period of muscle gain and irreplaceable during fat reduction.
BCAA ensures several metabolic and physiological functions. In metabolic terms, they support the BCAA synthesis of protein, from a physiological point they take over important roles in the immune system and in the brain. The importance of these amino-acids is not just our opinion. Several scientific studies have proven that:
They increase muscle strength and the overall sports performance,
They are highly anabolic,
They protect muscle mass before catabolism mainly in the period of caloric deficit,
They postpone tiredness,
They shorten the time needed for regeneration of muscle fibre,
They act anti-catabolic,
They increase the synthesis of protein during exercising,
They maintain a harmonic hormone system.
BCAA and diet
A diet represents a state of balance on the edge of catabolism for the body of a sportsperson. This means that even destruction of muscles can occur. The harder diet you undergo, the higher the risk of you loosing muscle mass. Muscle mass is lost on a molecular level, because there is an increased breakdown of protein (muscle protein is being released as fuel).
The basic equation for the growth of muscle mass is:
Muscle mass = speed of protein synthesis – speed of protein breakdown
It is well known that BCAA and mainly leucine stimulates the synthesis of protein and does it more effectively than drinking a protein drink before and after training. BCAA also increase the synthesis of the cell mechanism responsible for realisation of protein synthesis and what is unique- they increase the capacity of cells needed for the protein synthesis. They do this (primarily) by reducing the activity of ingredients affecting the breakdown of protein and by decreasing the expression of several complexes that take part in protein damage (in this case they decrease the amount of mRNA produced from the gene that codes these elements.
Apart from carrying out a protective function, BCAA also has other very important attributes. One of them is that they can increase the intensity of your training by positively affecting brain functions.
BCAA AMINO POWDER 2:1:1 and a few extra bonuses!
The ratio of BCAA 2:1:1 wasn't created by chance. You must have registered several products over the many years from all sorts of manufacturers, with the ratio 4:1:1, 8:1:1 even 20:1:1. It looks good and acts reliable, but only for the unexperienced. It's true that from all the composites of BCAA- valine, leucine, isoleucine- leucine is the most important. The most recent studies concerned with the ratio of BCAA have proven that the 2:1:1 ratio is the most effective. Nothing more, nothing less, everything is about simple and basic things.
What can you find apart from BCAA in in the BCAA AMINO POWDER 2:1:1 product?
BCAA AMINO POWDER 2:1:1 is a complex product carefully created from verified substances of high quality mixed in a fashion, so they have a synergic effect amongst themselves. Let's introduce them:
Glutamine MATRIX – a combination of the most quality forms of L-glutamine. Glutamine is an amino-acid that has the highest presence in muscles. It is irreplaceable for the regeneration processes in the body and acts as a high level anti-catabolic in muscles. With glutamine, it is necessary to mention that it strongly affects the functioning of the immune system, which is very suitable during pre-competition periods, where the defence ability of the body is decreased.
L-tyrosine – is a non-essential amino-acid that is an ideal assist for sportspeople. It supports the quality of the sports performance, speeds up regeneration and helps to prevent overtraining. Apart from that is helps reduce and burn body fat.
BCAA AMINO POWDER 2:1:1 is made for the most demanding!
Apart from 6 basic ingredients, BCAA AMINO POWDER 2:1:1 also contains a mix of vitamins and minerals (vitamin B6, vitamin B3, potassium, magnesium), which have a synergic effect amongst themselves and strengthens the effect of individual substances in the product.
And now another bonus! Who can say about their product that it contains not a gram of sugar (its maximally suitable for competition bodybuilders, women fitness models and bikini fitness models on the hardest diet), the ingredients used are suitable for vegans and vegetarians, it doesn't contain gluten or lactose, it is without artificial colouring or emulgators (e-substances). Our BCAA are 100% dissolvable with a delicious taste and aroma, like all our products!
We aren't imposing upon anyone, nor trying to convince anybody, we just want you to understand that our formulas are the products of multiple years experience for the needs of sportspeople. Let's not forget that simple ways don't exist. But there are products that can ease your path, make it more comfortable and take you to a winning finish line. This is what BCAA AMINO POWDER 2:1:1 achieves for you.